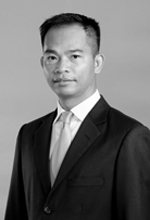 Biography
Vanthan "Dara" Peoudara was born in 1973 in Stung Treng province, located in the northeast of Cambodia where a majority of the population comprise of indigenous groups.
In early 1996, Dara joined Documentation Center of Cambodia (DC-Cam) as a volunteer, later becoming office manager and team leader for various projects including Promoting Accountability, Outreach, Legal Training, and the Legal Response Team. In 2005 he was appointed Deputy Director in charge of general and legal affairs. Dara was a witness to the authenticity of documents gathering by DC-Cam, which was turned into evidence by the Extraordinary Chambers in the Courts of Cambodia (ECCC) against the accused Khmer Rouge leader Nuon Chea, Ieng Sary and Khieu Samphan.
Dara has a Bachelor Degree in law from the Faculty of Law and Economic Sciences (currently known as the Royal University of Law and Economics) and an LL.M (Master of Laws) cum laude from the Center for Civil and Human Rights at Notre Dame University Law School, where he studied international human rights and humanitarian law.