The museum will provide a tranquil and contemplative environment where survivors and visitors can reflect, learn and heal. Part of the museum will be housed in the former Beoung Trabek High School, which once served as a re-education camp and interrogation center under the Khmer Rouge regime.
The museum will display a variety of exhibits, including photographs, selected documents, and films. A permanent exhibit, entitled "April 17," will chronicle the day in 1975 when Khmer Rouge forces took power in Phnom Penh. We also wish to have an area dedicated to "The Memory of Our Nation," where visitors can go to honor the victims. Space will also be available for traveling exhibitions related to other cases of mass human suffering. Our exhibits are already renowned and have been shown around the world. In addition to our local partnership with the Tuol Sleng Genocide Museum in Phnom Penh, we have shown exhibits in Denmark, Sweden, the Netherlands, and the United States.
Our staff members -- several of whom have trained at leading genocide museums including the Holocaust Memorial Museum in Washington, D.C. and the Anne Frank House in Amsterdam -- will provide tours and periodic lectures to visitors in the exhibit hall in an adjacent conference facility.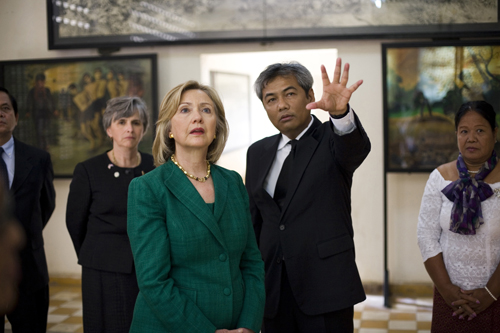 U.S. Secretary of State Hillary Clinton and Youk Chhang at Tuol Sleng Genocide Museum, 2010. Photo by Will Baxter. (Letter from U.S. Secretary of State Hillary Clinton.)