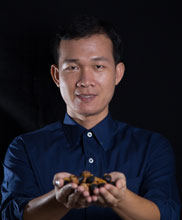 Dr. Ly Sok-Kheang
Interim Director School of Genocide, Conflicts and Human Rights Studies
Tel: 012 570 465
Email:
truthlysokkheang@dccam.org
Biography
Dr. Ly Sok-Kheang is the Director of the Anlong Veng Peace Center. Sok-Kheang was born in 1980, a year after the Khmer Rouge regime's collapse. The oldest son of four siblings, he is a native of Kandal province, where his parents worked as farmers and where he received his secondary education. When his entire family moved to Phnom Penh in 1993, Sok-Kheang continued his high school studies there.
In 2002, Sok-Kheang began volunteering at the DC-Cam, contributing to various research and documentation projects. After successfully completing his master's degree, he returned to DC-Cam to join as a Project Leader of Living Documents and Witnessing Justice.
Sok-Kheang received a bachelor's degree from the Royal University of Phnom Penh. In 2007, he received a master's degree in Peace and Reconciliation Studies at Coventry University in the United Kingdom. In 2008, Dr. Ly renewed his graduate studies at Coventry University, completing his doctoral deg ree in March 2014.
Director's Statement
Memory -- Memory of the past is the foundation needed to understand the present and shape the future. The Sleuk Rith Institute School will train exceptional Cambodian youth and international students about the lessons of the past and the principles of law and human rights needed to motivate a new generation of leaders. With a state-of-the-art library, we will create a setting that encourages students and researchers to work collaboratively.