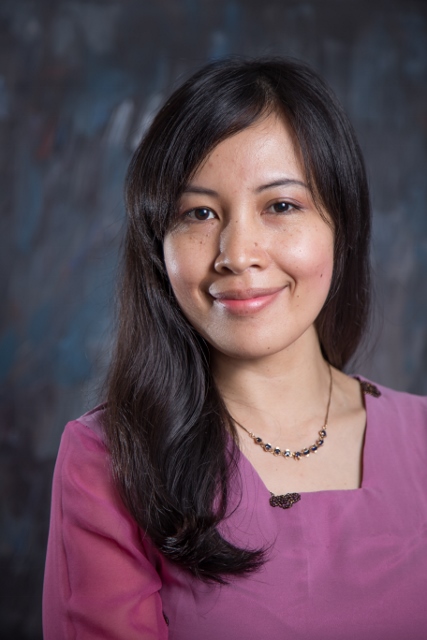 Biography
Born to Cham-Chvea and Kampuchea Krom parents, Farina is the oldest child in a family of four siblings. During the Khmer Rouge, her parents were evacuated to Kratie province where they met and married. After surviving the regime, they started a new life in Kilometer 8, known as Cham-Chvea community, where Farina was raised. In 1989, her father died, leaving her mother, who knew little about how to earn a living, to take care of the remaining children. Though fighting continued and it was difficult to find means to support the family, her mother's resilience made it possible to move forward.
Witnessing many girls her age drop out of school due to economic and cultural factors, Farina became determined to pursue her education to help her family and to address challenges facing women. With tremendous support from her mother, she was able to finish her bachelor's degree. Farina views history as an important factor in understanding any kind of problem facing the community and the country because path dependence contributes to defining who we are and where we are.
Prior to joining the Sleuk Rith Institute, Farina worked at the Documentation Center of Cambodia (DC-Cam) in 2003, progressing from volunteer to staff writer for magazine Searching for the Truth to team leader of the Cham Oral History project, which records the experience of the Cham-Chvea community under the Khmer Rouge and its coping strategies. Because memories of the regime are also shaped by current issues, including education, Islamic transnational networks, identity politics, inter-ethnic relations, and gender, she expanded her work to include all these variables. Based on six years of research, in 2011 Farina published her first monograph, titled The Hijab of Cambodia: Memories of Cham Muslim Women after the Khmer Rouge. The book is reviewed at http://www.patheos.com/blogs/mmw/2014/06/book-review-the-hijab-of-cambodia/
Farina is critical about her community while serving the community. One of her main areas of focus is the role of Highest Religious Islamic council in youth leadership and social and political participation. Farina has submitted to the Muslim community leaders constructive comments aimed at improving the community economically and intellectually.
Farina holds a BA in Accounting from National University of Management and a MA in International Affairs with concentration in Southeast Asia from Ohio University. In 2012, she was awarded an Asian Public Intellectuals Fellowship (API) to conduct research on Cham Muslims in Malaysia and Thailand. Farina has published articles related to human rights, gender, and Islam in Oxford Islamic Studies Online, Oxford Encyclopedia of Women, World Faith Development Dialogue, Religion, Peace, and World Affairs Online Collection. She has delivered presentations and lectures to both local and international audiences related to genocide, education, oral history, Islam and women, documentation, and gender-based violence. Farina is currently pursuing her PhD in Global Studies at the University of Massachusetts at Lowell.
Director's Statement
Justice -- Knowledge generation is crucial to achieving justice and accountability in Cambodia. The Research Center will provide a state of the art facility to bring together international, regional and domestic researchers to explore the past and address themes important to Cambodia's future in a globalized world.
A Hub for Genocide Research – Documentation Center of Cambodia (DC-Cam) has been a critical resource for much of the leading work on the Khmer Rouge history since our inception, hosting up to 200 research visitors per year. Drawing on DC-Cam's vast primary material archive, scholars will conduct a wide variety of research projects, with an eye towards impacting policy at the national level. In 2007, the International Association of Genocide Scholars recognized DC-Cam for excellence, noting that we are the only center of our kind in Asia and encouraging us to expand our research agenda. We aim to be the leading research center on genocide, human rights and sustainable development in Asia, promoting accountability and cooperation throughout the ASEAN region.
A Media Center – Only by disseminating the truth widely can we help Cambodians heal and move towards a brighter future. We plan for our media center to become the source of a wide range of educational materials for the public. We intend to publish our existing monthly magazines, scholarly books, films and an expanded repertoire of academic monographs and works for the public.
The Institute will also introduce two important new publications. The Cambodian Law and Policy Journal (www.cambodialpj.org) will promote critical legal scholarship on urgent legal, social, and development issues facing Cambodia and the Southeast Asia region. The Preah Vihear Times will be a major new, bi-weekly English newspaper that is geared to ASEAN audiences and deals with issues of justice and human rights.